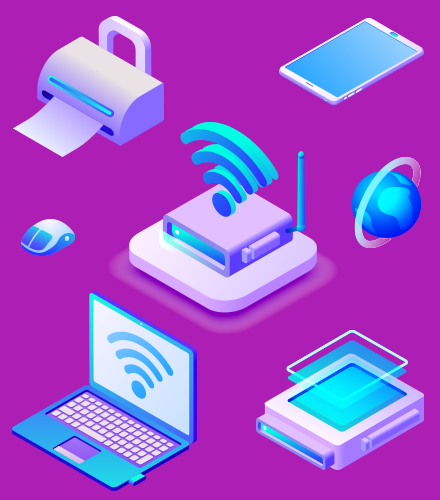 Wireless Setup and Router Fixing
The Internet service providers send you a nice package, with a shiny new router and a few wires and some simple instructions. They tell you it's easy to set up, just put in the CD and follow the instructions, and that you are expected to easily do it on your own. Well that may be true of anyone who has done it a few times, but even for them it can be confused by the labyrinth of telephone extensions that can wriggle around a house, or by the presence of thicker than normal walls, or if your house has 3 levels or is a sprawling bungalow.
So if you want your router setting up for you don't feel embarrassed or a failure, let us do it for you. We can find the best place for your router to suit your house and needs, we can set up your network so that it is as secure as can be, and can offer advice on how to eliminate any spots in your home where the signal is weak.
We can also set up wireless connections for your laptops, tablets, phones, games consoles and wireless printers if you have an existing network or are new to networking.
Get in touch today to see how we can help.
Other Computer Repair Services Offered
Computer Repairs Yorkshire charges no callout fee if you are located in: Brighouse, Cleckheaton, Heckmondwike, Dewsbury, Ossett, East of Halifax, South of Bradford, Birkenshaw, Morley, Batley, Birstall, Mirfield, Thornhill and down to the north of Huddersfield. If you are not sure if your location is in the free callout area or to get a callout quote if you are outside that area then please give us a bell first, thanks.